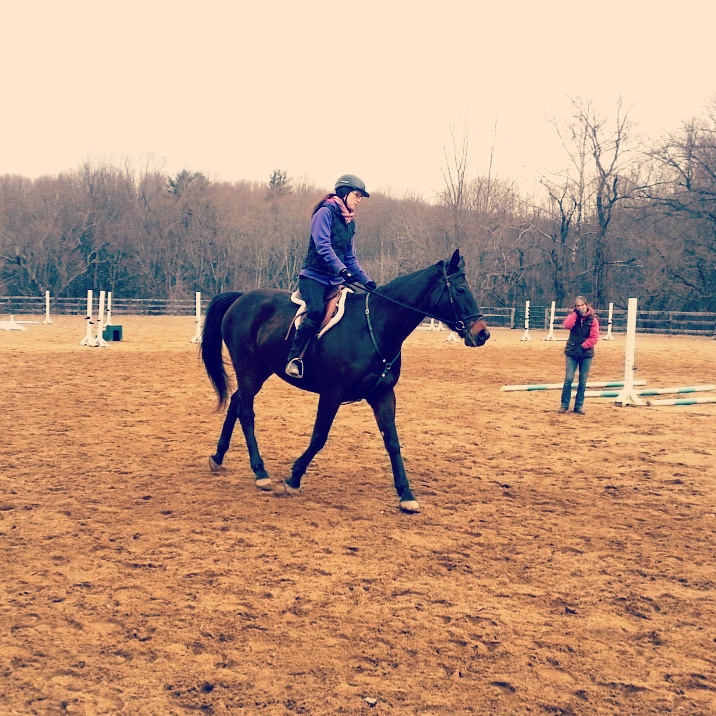 11 Feb

Off the Farm

On Sunday, I trailered Bailey into Oldfield's School for a riding lesson. Bailey is by no means perfect, but in general, he's just such an easygoing guy. After many years with the very high maintenance Misty, it's such a welcome change! (Side note: Misty's spirit is one of the things I love most about her, so I wouldn't change a thing about that wild mare).

Bailey loaded right onto the trailer without hesitation, and stood quietly while we finished packing the truck. He was as quiet as a mouse during the trip to and from. (Misty is always fine when moving, but if we stop at a light or because of traffic, she will whinny and throw herself around. Such an impatient beastie!). When we arrived at Oldfield's, we discovered that the indoor was pretty crowded – darn it! However, Cindy, my trainer who also works at Oldfield's, was happy to report that the footing in the outdoor was fine. (Sunday was really warm – it was in the upper 50s here in Maryland!).

I tied Bailey to the trailer while I tacked him up. He looked all around, but stood calmly for the most part. In the outdoor, he surveyed his surroundings, and then got right to work and barely noticed when 20 deer ran by. We mainly worked on balance and connection at the walk and the trot, and I'm happy to report that things are finally coming together!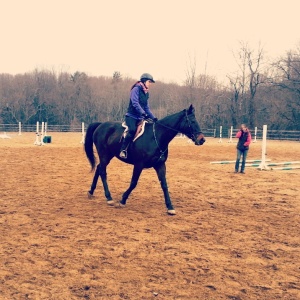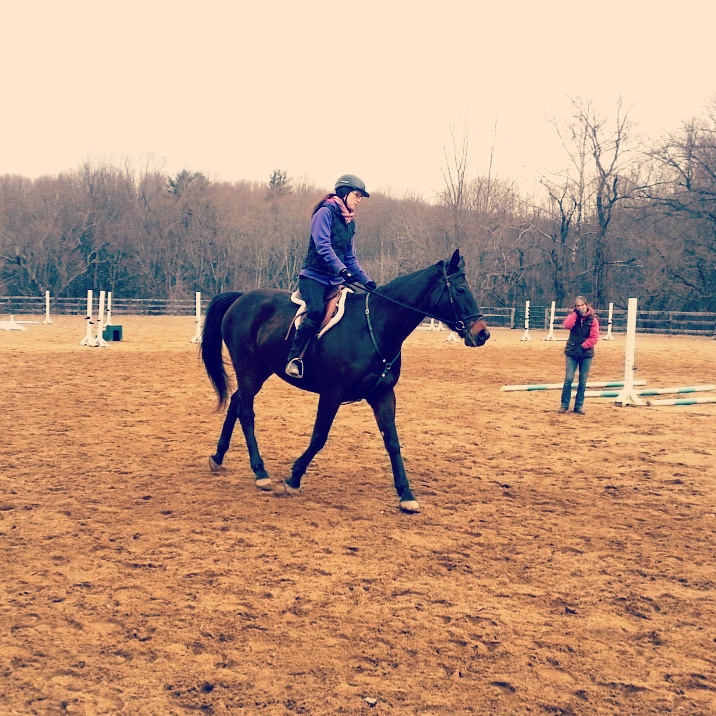 Bailey and I both have hunter backgrounds. Prior to working with Cindy, I would just get on and ride, so I was very uneducated. I didn't know what 'going in a frame' meant; I didn't know how to get a horse connected through the bridle – nothing. And Bailey was similar – his previous owner rode him the same way I was used to riding. And while this isn't wrong, I want to learn how to ride 'correctly,' so to speak.
And now I'm finally feeling that connection that Cindy's been trying to teach us! And when Bailey goes on the bit, he feels so great! And Cindy reports that he looks really fancy, and said again, that I've really got something with him, (she says he's 'nice and prance-y')! I'm beyond excited for what this year holds for us!
After the lesson, Bailey loaded up without a hitch. I keep focusing on the trailer loading because, with the exception of my pony, Takoma, I've never had a horse that loaded well. Misty, until only very recently, could take close to an hour – exhausting!
Anyway, the journey home was uneventful, and I'm really hoping the weather cooperates so I can trailer out more often. Now that I have a horse that loads easily, I want to go everywhere! Next on the list, however, is buying a truck. We have a trailer, but always need to coordinate with my step-dad to borrow his truck.
Hopefully everyone in the Mid-Atlantic area was able to get outside and enjoy the nice weather last Sunday. Only 24 days until the unofficial equestrian holiday – DAYLIGHT SAVINGS!!