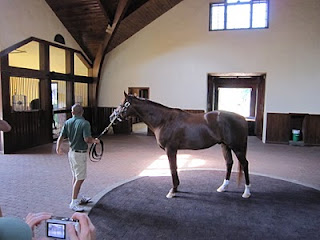 21 Feb

Oh Smarty Jones!

We toured two beautiful barns while at Three Chimneys – both cleaner and more spacious than my house. These horses live in very large, lavish stalls with lots of fluffy bedding. To say that I was completely jealous of their lives is an understatement.
In the first barn, the tour guide instructed a groom to take some of the horses out of their stalls so we could get a better look at them, take pictures, and bask in their gloriousness. The first horse that was brought out was Smarty Jones, 2004 Kentucky Derby winner, Preakness winner, and 2nd placeBelmont finisher. Smarty is so handsome…and he knows it.
While we were all gawking at his beautiful chestnut self, he got…ummm…a little excited. Maybe he wanted to show off…maybe be thought he was headed to the breeding shed…whatever the case may be, Smarty is proud of himself and wanted to share his…package…with all of us!
I know I'm a horse person and this shouldn't have been a big deal – but I found this absolutely hysterical and started giggling like a 5th grader! My husband shot me that, 'please be an adult about this,' look…and I let it go…haha! Oh Smarty!