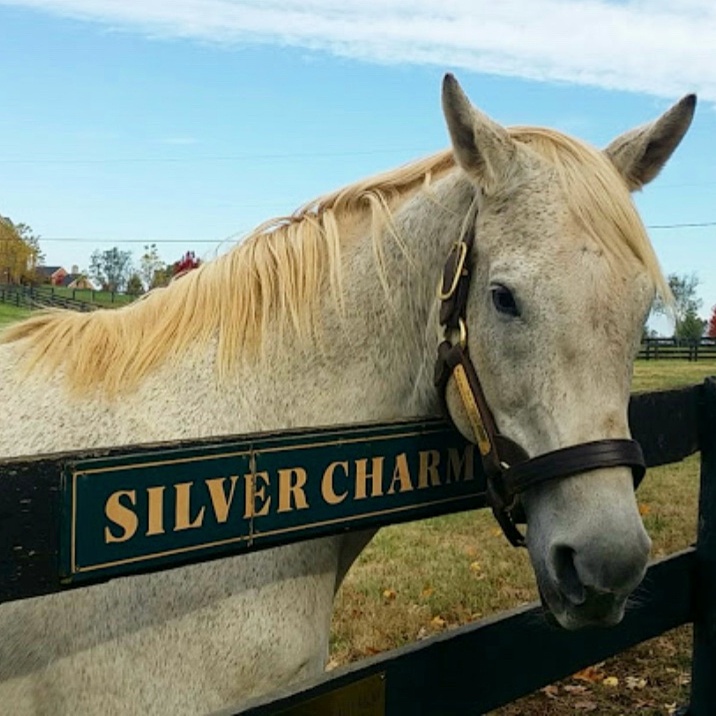 12 Nov

Old Friends Farm

On the Thursday before the Breeder's Cup, we took a tour of Old Friends Farm, which is located in Georgetown, Kentucky. Of course, I was there to see my main man, Silver Charm, but I was also looking forward to meeting all of the retirees.

"Old Friends provides a dignified retirement to Thoroughbreds whose racing and breeding careers have come to an end. By promoting these one-time celebrated horses through a campaign of education and tourism, we hope to raise awareness of all equines in need."

Our tour lasted well over an hour, and we were introduced to numerous ex-racers. The tour guides were wonderful about letting us pet and feed the (friendly) horses carrots. (Almost all of them were friendly). We first met Savara, who spoiled War Emblem's bid for the Triple Crown by winning the Belmont in 2002. Interestingly, War Emblem should be arriving at Old Friends soon – I wonder if these two will remember each other – ha!

I also had the pleasure of meeting Game On Dude, who was as sweet as he could be. Also at Old Friends is Popcorn Deelites, who, while he wasn't a great racehorse in real life, played one on TV! He portrayed Seabiscuit in the 2003 movie, and he was such a ham! He clearly enjoyed his time in the spotlight.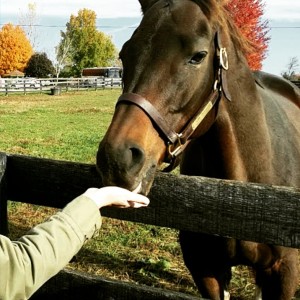 You may remember this article that came out back in the summer about Laura Hillenbrand (author of Seabiscuit), who sponsored the son, Genuine Reward, of the 1980 Kentucky Derby winner, Genuine Risk. Genuine Risk was the first filly in 65 years to win the Derby, and Hillenbrand always felt connected to her. When she saw one of her only two colts for sale through a Craigslist ad, she knew she had to help.
We met Genuine Reward during our tour, and boy, is he a handsome guy! We are so grateful to Hillenbrand for sponsoring him and to Old Friends for welcoming him home!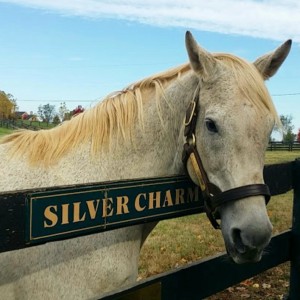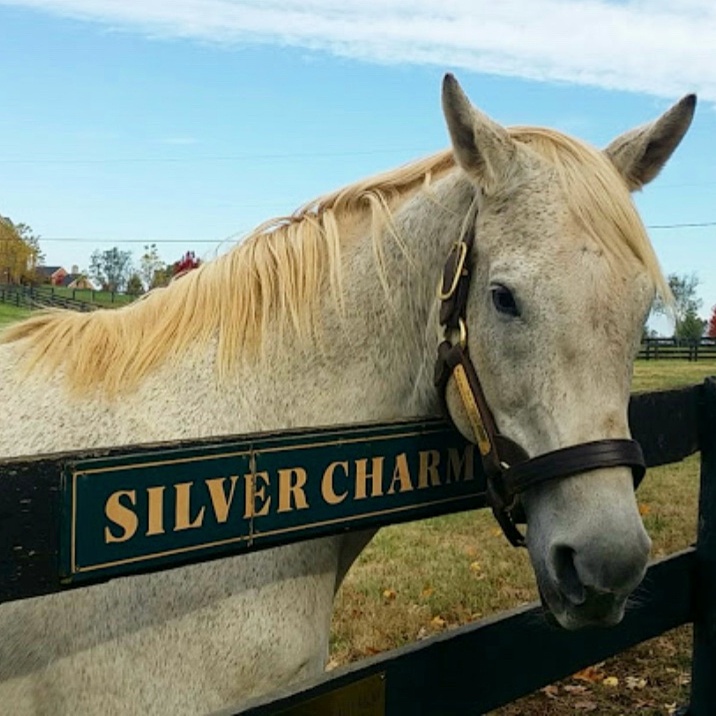 And, finally, the man I was there to see – Silver Charm. I distinctly remember his Triple Crown campaign back in 1997. Prior to the Derby, I researched all the horses entered, narrowed down the field, and picked Charm as my favorite. When he narrowly lost the Belmont to Touch Gold, it broke my 14 year old heart! But I have always had a soft spot for him and couldn't wait for him to come home from Japan. Charm was such a gentleman and let everyone pet him, take plenty of pictures, and, of course, feed him carrots. Meeting this gorgeous boy was a dream come true!