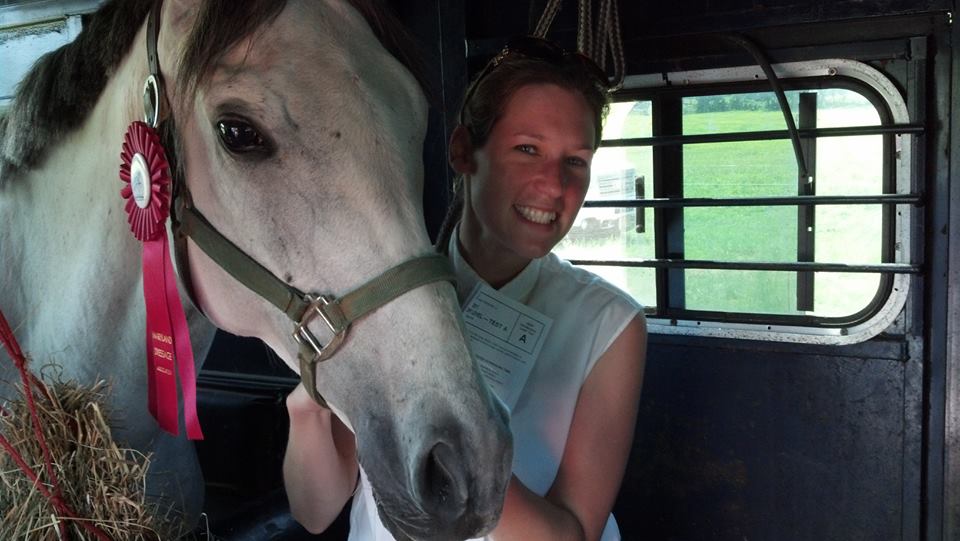 25 Sep

Our 2013 Show Season

Sadly, our 2013 show season consists of only one show. I was hoping to make it to quite a few more, but with moving to the farm, fixing up the house, and building all the fencing, time has been limited! Actually, I'm pretty impressed with myself for making it to at least one show, (and who knows – the season isn't over yet, I may make it out once more). I wanted to do a show before I moved Misty from her boarding facility to my farm. I figured she'd need some time to settle in at my place, so riding in a show immediately after the move might be a lot.

When I saw a Maryland Dressage Association schooling show was being held at Olney Farm in June, I wanted to enter. Olney is only a few miles from my old boarding stable, so it would be an easy trailer ride for Misty. Also, if you remember my post from that exact show last year, Misty was pretty antsy, so I wanted to, essentially, redeem ourselves. She wasn't bad last year by any means, but I knew she could have been better. Also, I knew I could only enter Intro Novice for one last show; I figured this would be a good one before I moved up to Intro Open.

When we arrived and I unloaded Misty, she was night and day from the last show; what a wonderful difference! No one likes to handle a wild Mystique! She grazed happily while I went to check in and get my number. On the way back, I met a loose horse in the driveway, (he had apparently run around the trailers, but Misty hadn't cared), and I helped block his path so his owner could catch him. After that bit of excitement, I went to tack up.

At Olney, you can either warm up in their indoor ring or in a grass pasture next door. There was a lady in the indoor with a very green horse, so I wanted to give her some space to work her horse in peace. I chose the pasture and walked and trotted Misty until it was time for our test. We completed both tests with ease and scored ourselves a 2nd and a 3rd place out of four other competitors. I don't remember my scores, but they were in the mid-sixties, I believe.

So considering that may be our only show for the year, I'm pretty happy with the results. And one show is better than none, right? Besides, Misty and I have been having tons of fun together this entire summer. We've been taking regular, weekly riding lessons with wonderful teacher and eventer, Cindy Napravnik, and we've improved by leaps and bounds! I feel very confident about what we've accomplished, and I've kind of redirected my focus as of late. For the past year or two, I've semi-focused on dressage. And while I really like that discipline, I've always just wanted to jump with Misty, so we're going back to my initial goals. Because of this, I want to get some more experience and confidence with jumping under my belt before I show again, (and it will be a hunter show this time!). That may be later this year, or sometime next. Either way, Mis and I are having a ball riding all around our new farm!