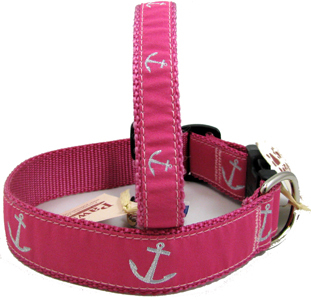 15 Dec

Paws Pet Boutique

About a week ago, we noticed that Izzie's Vineyard Vines collar had a crack in the buckle. Since the collar is about 3 or 4 years old, we decided it was time to find a replacement. A friend of mine shops at Paws Pet Boutique in Annapolis, and highly recommends their products.

Of course, the majority of their collars and products are nautical-themed, which works well in this house as James loves the water, and I love the colors navy and white! We ended up picking the pink anchor collar, though, which was very reasonably priced at $19.99. The Maryland flag collar was a strong second place finisher, and I may end up purchasing that one as an alternate sometime next year. If you check out their site though, you'll see they're all pretty adorable!

I received the collar just two days after placing my order, and it came complete with a handwritten thank you note. I love a personal touch! Also, the collar itself is very sturdy and high quality; Izzie looks ADORABLE in hers! I'm a customer for life!