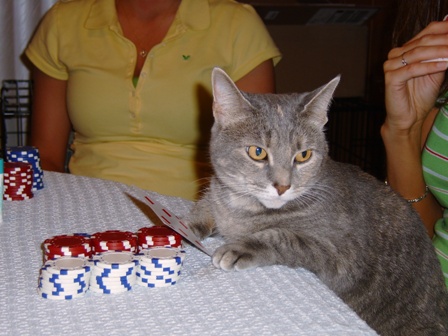 06 Feb

Pixie, the Original Sassy Grey

I'm devoting this post to the best cat in the world, my Pixie cat. Pixie has been my girl since the summer before my senior year of high school. And even though she's still mine, she lives with my mom, who couldn't let her go after I got married and moved out.




It was a hot summer day in 1999 when my mom, sister, and I ventured into the PetSmart off of Route 40. As usual, we stopped by the cat adoption center to look at all the cute kitties in their crates. This day, a volunteer was cleaning the cages, letting each cat out one at a time to walk around. I looked through the glass and sitting on a climbing tree and staring back at me was Pix, a half-grown, beautiful grey tabby.



Pixie getting her poker face on.
I knocked on the window and Pix saw me and started rubbing around the glass on the inside. Immediately I knew I must meet that cat.
The volunteer came over; I pointed to Pix, and asked if I could see her. The three of us came inside and before we knew it, Pix had weaseled her way into our hearts. As we held her, she purred like crazy and gave us kitty hugs by wrapping her arms around our necks, and kissed our cheeks. She was an excellent sales-kitty – we were hooked.
The adoption center had named her Cori, but that name sounded too human. I was almost settled on Dixie when Pixie popped into my head – what a perfect name for such a sweetheart.
She's ALL IN!
Pix has always been the family favorite. She's our "Love Kitten," our "Meow Meow," and our "Schnookums." She's more dog than cat, a very talkative cat who will sit and listen to you as you talk about your day, and then offer her thoughts.
However, she's not always her Love Kitten self. Like any true sassy grey, she can be quite the diva. If you pet her the wrong way, she'll smack you. When we would go on vacation (and my grandmom would watch her), she'd run to greet us when we returned…then ignore us for a few hours as if to punish us for leaving her.
Regardless of her attitude, she's been nothing but an absolute joy to own. She even had a Lassie moment. One night, years ago, my mom was getting ready for bed when Pix came bounding into her room and jumped on her chest. Then she jumped off, stood there looking at my mom, and "yelled" at her. Then she tore off out of the room. My mom followed her thinking she wanted a bedtime snack or something like that. Pix flew down the steps and raced into my sister's room where my mom had left a space heater running. It had just begun to smoke. My mom quickly turned it off and thanked Pix, who must have known something was wrong! Good Pixie!
Now, 13 years later, Pix is still doing well, still her diva self. She is the Queen of the House; we let her do whatever she wants. If my mom complains that she's walking on the kitchen counters, we just reply, "but she's Pixie cat!" After all, the best cat in the world can do anything she pleases.