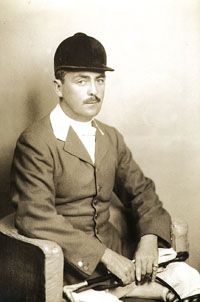 24 Mar

Random Recollections on Foxhunting

I recently finished a small booklet, Random Recollections on Foxhunting, by Harvey Smith Ladew. If the name Ladew sounds familiar, it's because I visited his house and gardens a few summers ago and wrote about the tour in this post. His home, "Pleasant Valley Farm," now known as "The Ladew Topiary Gardens," is located about 10 minutes from my farm, and I love driving by it on a regular basis.

His life was fascinating, and I intend on purchasing this book so I can learn even more about my long-lost uncle this interesting fellow. Random Recollections on Foxhunting, however, was brilliant. It was written by Ladew himself and contains a variety of diary entry-like vignettes detailing his foxhunting adventures. Below are a few of my favorite passages.

"I think Frankie was too young to be there though he might possibly have been out on a small pony for, when someone once asked Mrs. Hitchcock how old she thought a child should be before it was taught to ride, she answered, 'Well, I don't believe in starting them too young; I think a child should be at least a year old.'"

"One day as she was riding at a rather high panel which was the only jumpable place in a long row of trees, her horse refused and she was thrown. While she was lying on the ground, still dazed and cautiously moving her arms and legs to see if any bones had been broken, Brose Clark came galloping full tilt towards her. 'Are you hurt, Molly?' shouted Brose as he neared the recumbent figure. 'I don't think so,' Molly answered faintly. 'Well then,' he shouted again, 'roll out of the way so I can jump that fence.'"

"I will mention no particular hunts by name, but will say that I have seen both men and girls riding in dungarees, no jackets and their shirtsleeves rolled up – in some cases their shirt tails hanging out over their trousers. If the girls wore derbys, they were usually tilted at a rakish angle far back on their heads to exhibit to the best advantage, I suppose, blonde or brunette curls."

"Most Irish people love horses and fox-hunting; it is indigenous to the soil and bred in their bones. One farmer, who has hunted all his life, but who is now too old to enjoy his favorite sport, drove nearly fifty miles merely to see an opening meet of the Kildare hounds. The Master said to him: 'Why, Pat you must be mad to have come such a distance.' 'Ah! Well, me Lord,' answered Pat, 'shure if we were all out-and-out sane, there'd be very little fox-hunting going.'"

Below is a picture of Harvey S. Ladew that was found on Pinterest.