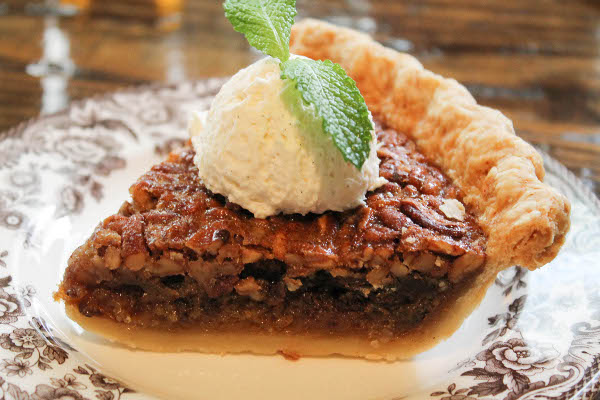 05 Apr

Recipe – GF Derby Pie

I am doing some serious research for my Derby Party menu – the first Saturday in May will be here before you know it! A friend on Instagram sent me this recipe for Derby Pie – it looks delicious! And I think I can make it gluten free as long as I can find a GF pastry shell.

INGREDIENTS & DIRECTIONS – PIE
– 1 cup granulated sugar
– 2 eggs, lightly beaten
– 1 cup finely chopped pecans
– 6 oz. semisweet chocolate chips
– 4 tablespoons cornstarch
– 1 stick butter, melted and cooled
– 3 tablespoons bourbon OR 1 teaspoon vanilla
– 1 9″ deep dish pastry shell (GF)

Combine sugar and cornstarch in a medium bowl; beat in eggs. Mix in butter, bourbon or vanilla, chocolate chips, and pecans. Pour into pie shell. Bake at 350° for 40 minutes or until puffy and lightly browned. Cool completely. Top each slice with Derby Whipped Cream.

INGREDIENTS & DIRECTIONS – WHIPPED CREAM
– 1/2 cup heavy cream
– 2 tablespoons confectioners sugar
– 1 teaspoon bourbon OR 1/2 teaspoon vanilla

Beat 1/2 cup heavy cream with 2 tablespoons confectioners sugar until soft peaks form. Add 1 tablespoon bourbon OR 1/2 tsp. vanilla and beat until stiff.

This pie freezes well. Bake it, cool it, wrap in foil or plastic wrap, and freeze. When ready to serve, set unwrapped but still solidly frozen pie in a slow oven (300°) and warm gently for 35-40 minutes.