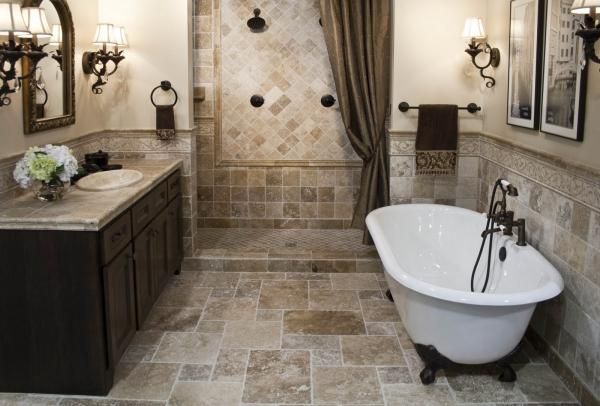 06 Jan

Resolutions + Projects

I must confess, for the first time in quite a few years, I did not make any New Year's Resolutions. Why? Because I usually don't keep them – or only keep half. I normally feel pretty good about that until my husband reminds me that half is only 50%, which is failing.

So this year – no resolutions. I just want to do things that make me happy and make others happy as well. I want to be the best wife and dog/horse/cat mom possible. I find I stress out a little too much when I make specific goals because if I don't hit them, I beat myself up royally. And I shouldn't do that to myself.

Instead, as always, I made a list of house/farm projects I want to accomplish – which is always much more doable since my husband and I tag-team these! Here is just a sample of our never-ending To Do List:

Renovate Hallway Bathroom
Our hallway bathroom was also known as "the pink bathroom" because it was tiled from floor to ceiling in pepto bismol-colored pink tiles. Ick. On December 23rd (yes, you read that correctly), James decided to start renovating. You know, two days before Christmas when we'll be having guests over (just my family, so not really 'guests,' but you know what I mean). This bathroom is super tiny and is a complete gut job. The good news is that things are coming along. The bad news is that I still have a toilet sitting in the middle of my bedroom. I'll post pictures when it's done, but even though it's tiny, we're keeping our laundry chute, which is phenomenal. (Photos via Pinterest).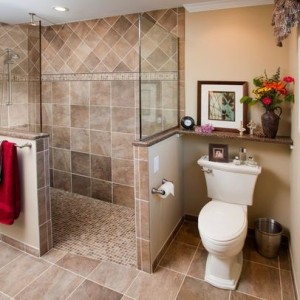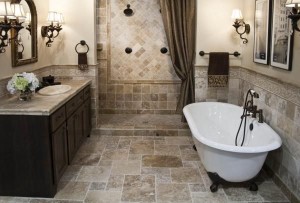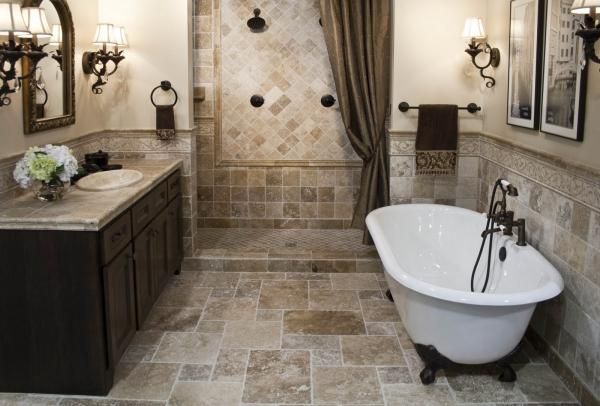 Landscape the Front Yard
The best part about this project is that my uncle/cousin and their landscaping company will complete this, so no work for me! These are the same peeps who did my awesome patio, (which I just realized I never posted all the 'After' pics – sorry)!
New Pool Liner
This was unexpected and unwanted. But our liner croaked a few weeks ago. James noticed it when he uncovered the pool to add some chemicals. Sigh. And while they're doing this, we've decided to have them build some permanent steps. This DOUBLES the price. What?! But it's something we'll regret not doing if we cheap out.
Plant Trees
I'm probably most excited about this. I LOVE trees. Funny thing though – I have five acres and only six trees on my entire property. Isn't that the weirdest thing? I think it is. Anyway, we're hoping to plant some willows in the back field and maybe in the paddock behind the barn (to soak up water) and some dogwoods or cherry trees along the front to give a little more privacy.
Furnish on a Budget
Updating an almost 100 year old house is expensive. We cut costs where we can by doing *almost* everything ourselves. I'm so fortunate that James is incredibly handy, so we end up saving a lot of dinero! But even still, there is almost zero leftover for décor. But I'm okay with that – I have gotten to the point where the vast majority of my most favorite pieces are yard sale finds and hand-me-downs. I am really starting to have problems buying anything brand new anymore. There's absolutely no reason to buy every single thing brand new when I can find the same thing MUCH cheaper at a yard or vintage sale. And what's better is that I love that old, slightly worn look. Upcycling – is that what it's called? Well, I'm going to continue to upcycle the crud out of anything I can get my hands on.
Okay, I think that's it for now – sorry for the long post. I think I was pretty terrible at posting 'After' pictures last year, so I am hoping to improve upon that.
As always, thanks for reading! I appreciate each and every one of you and hope you all have a fabulous 2016!!