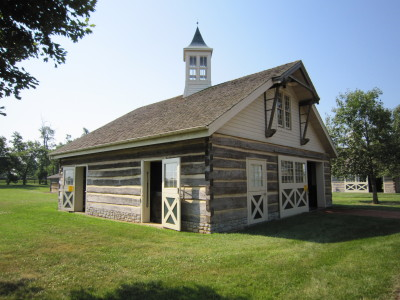 04 Mar

'She Won' Farm

It's no secret that James and I have been saving for our farm. Right now we are living in our townhouse and really like it – it's pretty sweet as far as townhouses go…but…Misty is not in my backyard. And since I grew up with my horses on my property, I want to get back to that.

What I (err..*we*) really want is probably more aptly described as a farmette. I'd like 10 acres or a little less for my Misty and the rest of our herd, (we have 5 horses between me, my mom, and my sister). I'd love a cute little barn and riding ring…although I don't mind putting in either one if they do not already exist on the property.

As far as the house, as long as it's livable, then I don't care. Poor James cares…but the house is the least of my worries. The property will make or break my (umm…*our*) decision.

We are hoping to start casually looking sometime this summer…but we won't be heartbroken if we can't find our dream place until next year. Either way – I feel like the farm is going to be a reality in the fairly near future!

So James and I were discussing our farm (because it's on my mind probably as much as other things are on boys' minds) and I asked James what we should name it (priorities people!!! We can't have a farm without a name!). I really like, 'Misty Maple Manor' (hope we have some maple trees on the property)…or 'That Grey Horse Farm' (because I plan on expanding my grey horse herd…with the hopes of including Brazilian Wedding (famous from the Trainer Challenge) someday!).

James looked thoughtful for a moment and then suggested these beauties:

'I Finally Made Her Happy' Farm

'We Spend Every Spare Dime On Our Horse' Farm

And then finally:

'She Won' Farm

Well – isn't he just a comedian! I have to admit, 'She Won' Farm is pretty cute! (Quick background on James – he's from Arlington, VA and spent the majority of his childhood running the streets of DC…he's a city boy through and through. Poor thing didn't know what he was getting himself into when he laid eyes on country girl me!).

So right now the name is to be determined…I'll let you all know when we settle on something!

Any ideas? Send them my way!