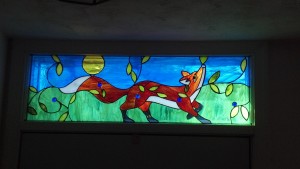 07 Mar

Stained Glass Window Art

While I have never been fox-hunting, riding to hounds is definitely on my horsey bucket list. But that hasn't stopped me from decorating my house with a variety of 'hunt scene' pictures, pillows, trash cans (yes, I said trash cans), etc.

There is something so picturesque about a horse and rider taking a jump in the middle of a beautiful field with hounds scattered all about, hunting the fox. In the U.S. (or so I'm told), the foxes aren't actually captured (and killed) – the fun is just in the chase!

This is good news because I simply love foxes and would never want to see one harmed! We have a family of foxes on our farm, and I just love it when one, clad in a brilliant red coat, dashes across a field!

So when my friend Susan sent me the two pictures below, I almost died! I believe her email even said something like, "you are gonna be so jealous!" And of course I was!

Made by Susan's dad, this beautiful piece of artwork is made of hand-cut stained glass. When Susan found the pattern on etsy.com, she just knew she had to have it, and sent it off to her dad. After a few weeks of hard work, he snuck into her house while she was at work and installed it above her front door. What a perfect surprise!

Doesn't it look simply amazing?! And now I will steal it need to make one myself!