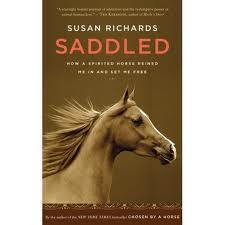 22 Apr

Book Review: Saddled

Susan Richards does it again. Saddled, How a Spirited Horse Reined Me in and Set Me Free, is a hit. Though this tale mostly revolves around her first love, her horse Georgia, even non-horse people will have a hard time putting this one down.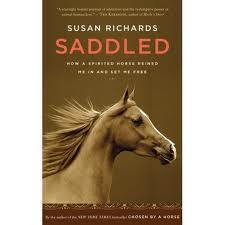 Susan is the author of the two best-sellers, 2006's Chosen by a Horse, and 2008's Chosen Forever. Her third memoir is as equally raw and poignant as her first two. With a writing style so clean and honest, it's easy to imagine Susan is your best friend from college or your beloved next door neighbor.
In Saddled, Susan takes us back into her past and explores the journey she takes with Georgia, her fiery Morgan mare. Susan had struggled with abuse and alcoholism for quite some time, but she doesn't realize that anything is truly amiss until Georgia comes into her life and puts everything back into place. "It had something to do with Georgia. It had something to do with making a commitment as enormous as caring for a horse who might live as my companion for the next forty years. It had something to do with love."
As Susan begins to take responsibility for Georgia's care and well-being, she realizes she needs to take control of her own destiny. Saddled is about putting down the wine glass, taking a good, long look at yourself in the mirror and taking back the reins to your life.
Horses do not understand addiction, nor do they understand how humans grieve. They only understand love and compassion, and they return it in the only way they can, by being a constant and steady rock. Grounded by the need to care for Georgia, the mischievous mare overflowing with personality, Susan finally finds support and relief.
As you turn the pages in this story about love, loss and healing, you will become Susan's biggest fan. You will root for her to find the direction and control she needs to be that strong person not only for Georgia's sake, but for herself. She does not disappoint.