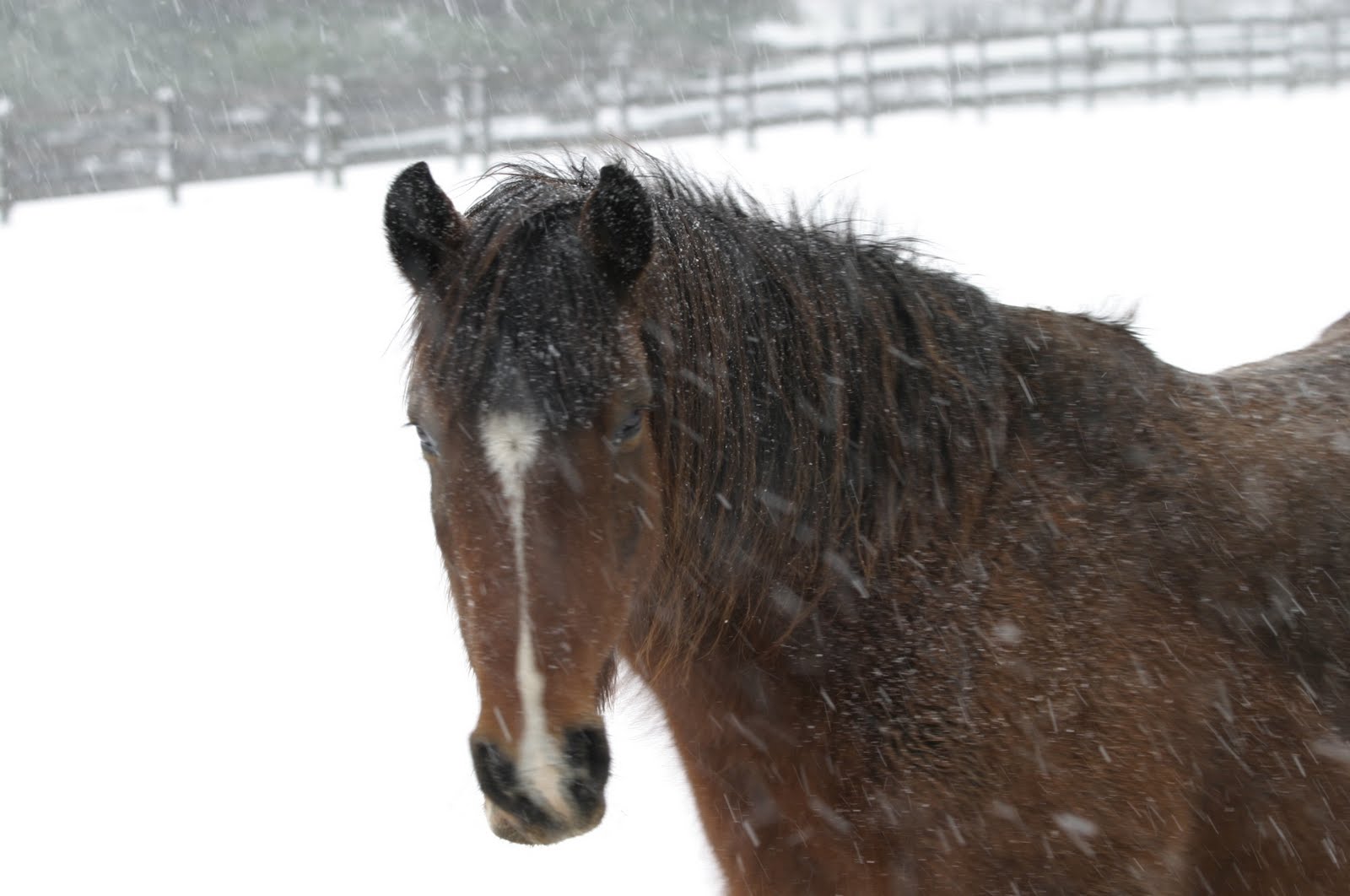 09 Sep

Takoma Star

I'm far overdue on this post. I should have introduced the rest of my herd months ago.

The matriarch of my herd is my 30 year old Mustang pony, Takoma Star, or Komie, as she's affectionately known. Komie came into my life on July 11, 1994. I was 11 years old and would be entering 7th grade in September. This was, without a doubt, the best summer of my life.
My beloved Komie earlier this spring…check out those dapples! I love my girl!
I had been taking riding lessons for two or three years at this point, and my mom felt that I was ready for a pony of my own. At the time, she had her Arabian, Traveller, (who will get his own post), and our two goats, Laverne and Shirley.
Komie is a large pony, 14.1 hands. She's a bright bay with a white star that connects to a thin stripe and snip at the base of her nose. To this day, Komie is beautiful, yet standoffish. She was adopted right out of a wild herd of Mustangs in Arizona at the age of three. Just less than a decade later, she was mine.
Komie this summer. I'll have to dig up some pictures of Takoma and I from 'back in the day' and scan them to my computer!
I could not have asked for a better childhood friend. She was always kind and patient to the horse crazy girl who spent hours grooming her, brushing out her long, thick tail, and braiding ribbons in her mane. On Preakness Day one year, I made a garland out of buttercups and placed it around her neck, the winner of my heart.
But like any pony, Komie could be feisty. I find it funny that my off-the-track-Thoroughbred, Misty, has never once taken off with me, grabbed the bit in her teeth and bolted. Yet my supposedly saintly pony has taken off with me no less than 10 times (maybe more?) over the course of our riding career. For such a little thing, she certainly had some speed. And I, completely surprised, would just cling on for dear life.
She eventually always came to a screeching halt. Good girl. And I would dismount on trembling legs thinking, it's a shame I'm already too tall to be a jockey!
And though Komie had her days, she was as close to perfect as a pony could get. I rode her English and Western; I jumped her and barrel raced her. We spent many long afternoons trail riding down to the Gunpowder River, wading along until she decided she wanted to roll in the water. (Yes – I dismounted (hurled myself off?) in time…but my saddle was never the same!). From my childhood eyes, Komie was my angel sent from God…my best friend.
My beautiful girl on a snowy winter's day. She's a hardy little Mustang and grows the fuzziest coat…she almost never needs an extra blanket.
Now Takoma is living the life of a retired pony: grazing, sunning herself, hanging out her with BFF Misty. And though she's a little grey around the face, she looks awesome for her age!
I pray that Komie continues to stay healthy and lives long enough for me to buy my farm so she can live the rest of her life as my backyard pony again. She has given me so many wonderful, happy memories – I owe her so much.