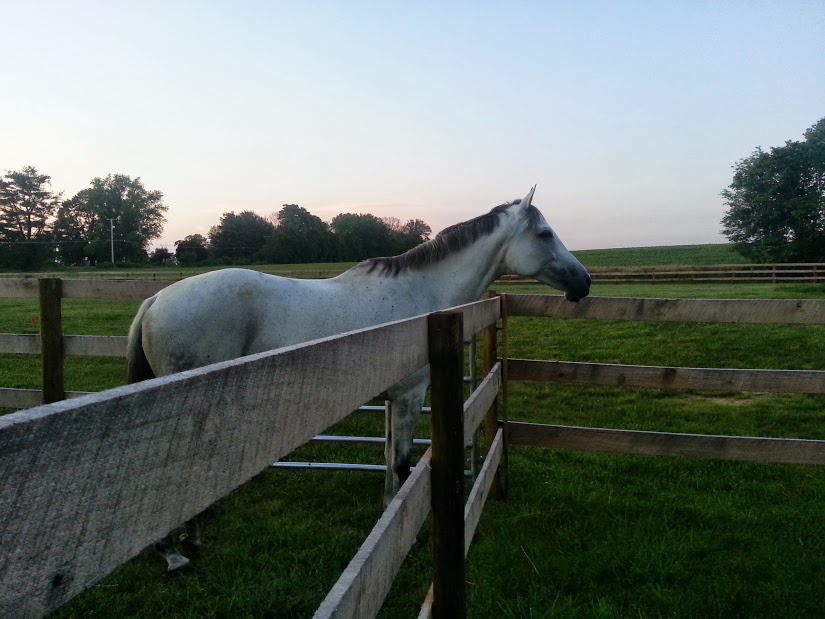 05 Sep

The Amazing Misty

Something's gotten into Misty – she has been perfect!! Haha I'm just kidding. Misty is usually pretty good on a normal day, but she has been a phenomenal little partner lately, especially at the canter.

There's just something about the canter. Something that Misty doesn't like. Throughout the five years that I've been her mama, we've gone back and forth with her love/hate relationship with that gait. I've wondered if her dissatisfaction was pain related (the vet didn't find anything, but we do acupuncture anyway)…saddle related (had a saddle fitter out. Our current one wasn't so great, so she got a new Stubben earlier this year)…heat cycle related (Misty's on the depo shot from March until September)…or what. Maybe she just didn't like it.

While my mare is a sensitive one and the issue may have been caused by any combination of the aforementioned, I think a huge problem of hers is…me. I'm a nervous rider, unfortunately. A few good rides will build my confidence until I'm ready for an Olympic mount…and then one bad ride later I'm ready to give up the sport. But I don't…because I'm crazy. But that's a whole other can of worms.

Anyway, I've started riding with a new trainer – an eventer who can finally train me and Misty to do what I've always wanted to do all along – jump. My trainer is none other than famous, super-star jockey Rosie Napravnik's mother, Cindy. Cindy is amazing…it's no surprise that her daughter is one of the best riders out there!

Cindy took one look at me and said, "we're going to go back to the basics with this horse." So we began the summer doing lots of trot work and working on forming a nice, balanced connection with the bit. I was raised just hopping on horses and going for trail rides. When I started lessons with hunter-type instructors, it was still kind of get on and go. I was never taught much about finesse. So Cindy and I started at Square One with my lovely Misty, and my mare proved to be a willing student.

We started cantering again a few weeks ago. Immediately Cindy noticed the problem. At the same time I would ask Misty to move into the canter, I would also (without realizing it), pull back on my inside rein, telling her, essentially, to stop and hitting her in the mouth. The poor girl didn't know what to do. I blame some of this on my terrible riding skills (I do my best, but I'm not a natural)…the other I blame on Misty. I'm slightly defensive from years of not knowing how she was going to react to the canter. But maybe her antics were in response to my crazy hand-work, like pulling back without realizing it. So maybe I created the monster. It feels like a what-came-first-chicken-or-egg situation.

Either way, it's never too late to fix it. So that's what we've been doing. I've been asking for canter transitions and concentrating SO HARD on keeping my hands still and easy. Then I immediately get out of the tack and kind of let Misty go a bit, moving freely at her own pace. And, I dare say it, Misty seems to be enjoying herself at the canter! We've been doing some big, beautiful sweeping canter circles in my new back field…it's kinda been a dream come true.

Now we all know that my girl likes to get a little silly with the fall weather, so fingers crossed we can keep up the good work and the happy attitude! I'll keep you posted…hopefully "The Mystique" does not rear her ugly head this year (although, she's totally not ugly, even when she is bad).

And ps – we've been jumping too! More on that later!