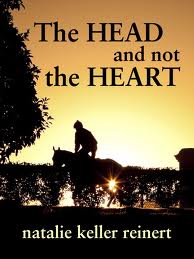 16 May

Book Review: The Head and not the Heart

The Big Question in The Head and not the Heart

Though I hate to admit this, every so often I wonder what my life would be like without horses. I usually ask myself this question when I'm at the farm on the coldest day of the year, waiting for the vet to arrive while walking my old pony who's mildly colicking. Or I ask myself this question as I'm spitting sand out of my mouth because I've just done a face-plant into the earth as a result of one of Misty's massive bucks.

I believe all horse owners, at some point, have wondered what their lives would be like without horses. Alex in Natalie Keller Reinert's novel, The Head and not the Heart, asks herself this question, and for one night, she allows her artsy alter-ego to come to life.

Living on a Thoroughbred training farm with boyfriend, Alexander, seems like heaven. Horses all day, every day. What's not to love? But when the physical labor, early mornings, everlasting days, and heartbreak become too much to handle, Alex jumps at the chance to fly to New York City, even if it's just for a few days to check out a horse.

While in NYC, Alex imagines what life would be like if she packed up and moved. Her days would be so simple. She'd have time to write. Her only job would be to explore the intricacies of this enormous city. She'd get to be herself without the whole horse responsibility thing hanging over her head. She could just be.

"And here – here is the place to run to. New York City! The home of ideas, the home of innovation! I could get a studio apartment, I could crawl up into a loft bed, I could eat take-out Chinese food at two a.m., I could write a great book which would shake the literary world on its foundations, I could."

When she does the unthinkable and follows a group of strangers to a Brooklyn warehouse turned nightclub, she sheds her temporary fears and blends right into the crowd. Within a few minutes, she's striking up conversations with those just like her, those who are only looking for some fun music, a cold beer, and a good time. Alex could get used to this.

However, her time in NYC is short, so Alex will have to act quickly. Will she stay and discover her new self while uncovering this city? Or will she head back to Florida to her horses and the only life she's ever known?

Grab this book to find out! It's a quick read that I highly recommend!