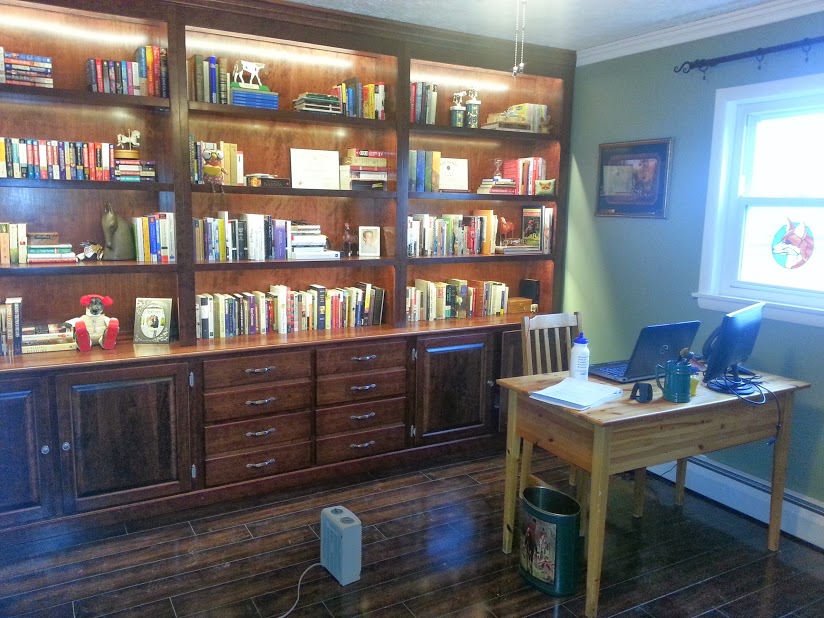 27 Dec

The Farm – 2013: A Recap

As you know, James and I purchased our almost five acre farm in March of this year. Since then, we've been super busy. The list below is more for my reference so I can look back and see all that we've accomplished. More so, however, this list can be used to determine what still needs to be done!

We'll start with the house first.

– After settlement on Day One, we came home and started ripping up the carpet in the main room (living and dining room combined), hallway, two spare bedrooms, and James' office. Immediately after, James got to work on leveling the floor. This proved to be a huge job. We learned on settlement that the main part of our house is 90 years old and the front half and back master bedroom with attached garage are 30 years old. This made leveling the floor where the addition met the original part of the house a tremendous ordeal! But my Bergs persevered and now we have beautiful laminate in the main room, his office, the hallway, and the largest spare bedroom which became my office.

– Also within the main room: new paint, molding, curtains, chandelier above the dining room table, and light above the foyer.

– The hallway was painted the same color as the main room (a light, warm brown), and received new molding as well…the closet was painted too.

– The spare bedroom that became my office turned out beautifully! A family friend has his own wood-working company, so we had him build us a wall-to-wall, floor-to-ceiling bookshelf, (you know, because all English majors have TONS of books and need to showcase them!). With four shelves on top, two cabinets and four drawers on the bottom, and a beautiful cherry-stained finish, it looks magnificent. This room also got a fresh coat of paint, a new ceiling fan, and curtains. With my books, horse pictures, ribbons, and diplomas, my whole life is in this room.

– James is a tech guy. He loves to automate everything…so he automated all of our lights (inside and out) and thermostats. He also installed some security cameras in the barn and around the yard so we can check on the place on our phones at any time.

Now onto the outside.

– With the help of some amazing family members, the horse fence was built during late April/early May. We also built a picket fence (and painted it white) for Izzie's side yard.

– I did quite a bit of work to the barn – cleaning, dusting, adding gates, fixing doors, etc. to make it horse-ready. Misty and Komie love it and feel very at home here.

– I'm not much of a gardener, but I did plant some pretty flowers along our patio and next to the pool.

– Stone dust was laid and a run-in shed was added to the side field.

– And then there was all the grass-cutting and weed-eating…most of which I did myself all summer long. I have a zero-turn tractor, and I just LOVE cutting grass. I've told James no less than 10 times already how much miss cutting the grass. It's a quiet time (minus the roar of the tractor) to think to myself and reflect on anything I want. It's me-time. Also, it's a job that doesn't take too long to complete and you can see an immediate, improved difference. Instant satisfaction! And outside is my favorite place to be.

So that's about it…quite a bit in about nine months! James and I are really proud of everything we've achieved all the while working at our full-time jobs. And of course, we still found time to use our pool, horseback ride (me) and play hockey (him). We've already made a preliminary list of what we'd like to accomplish in 2014, and of course I've even categorized it by season! But we shall see what the year brings us! I hope everyone has had a great 2013 – it's definitely been one for the books for us!