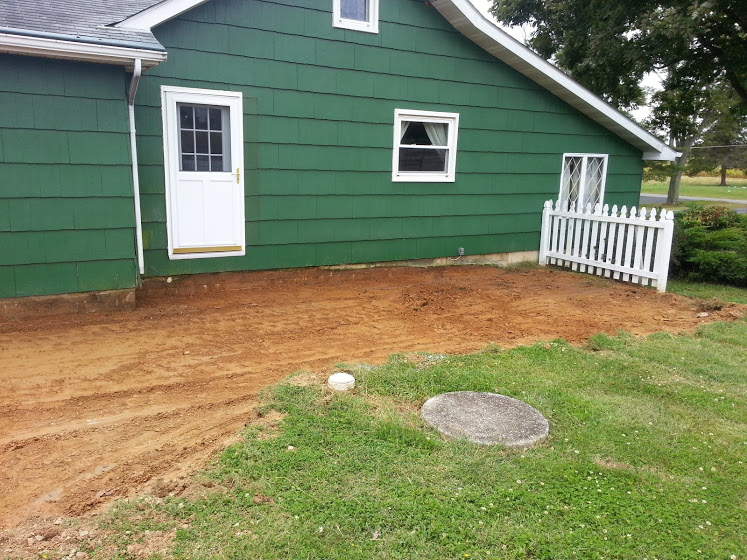 18 Dec

The Farm – 2014: A Recap

This was our first full year on the farm, and boy was it a busy one! We hit the ground running in January and still haven't let up. James and I will probably slow our pace in another year or two after we've crossed some large projects off the list (like the kitchen and redoing the basement). For now – here's a look at a few of our bigger accomplishments in 2014.

The first project of the New Year was sanding the stairs, staining them, and redoing the tile in our foyer area. This job actually turned out to be bigger than we thought mainly because it was so messy. We used plastic sheeting and taped off the entire area – we called it our 'meth lab.' Staining is another messy job, and it's one you have to do over and over as it requires multiple coats (between intervals of hours and/or days) and then multiple coats of poly on top. The tile work was a piece of cake in comparison. James did a wonderful job, but he decided that he never wants to sand/stain again. Lesson learned – it's easier to pay someone else for dirty jobs like that!

Throughout the year, we were constantly cleaning and organizing. We made many trips to the dump to throw out a bunch of junk that the previous owner had tossed into the woods. We pulled the rest of the old insulation out of the unfinished studio apartment above the garage, and James bought shelving and completely organized both garages (the attached one-car and detached two-car) from top to bottom.

In mid-summer, we hired a contractor to turn the window in the very small 3rd bedroom into a door. Now we have a door in which we can directly enter Izzie's side yard without having to go out the back door and through the pool area.

By the end of the summer, two wonderful, hard-working teenage boys painted our fence black. You can read all about that project in this post. Also at this time, we had our AC unit replaced and a heat pump installed. Now we don't have to rely solely on oil! This was money VERY well spent!

In early October we had the front door replaced. Now every exterior door in the house has been updated, which makes me feel nice and safe!

We began our patio project in late October. This is going to be a multi-step project, and the first step served two purposes. Over the years, the ground on the side yard (Izzie's yard) had started to creep up around the house and in some places, it was actually above the foundation touching the shingles. This caused water issues in our basement every time it rained heavily. So the first step was having the grading done, which pulled the earth away from the house. Since then, we haven't had a single drop of water in our basement.

Prior to the grading, we had mapped out how the patio in the same area was going to be laid out, and now we have the outline for that. The next step is to get some stonedust (or gravel mixture) to be delivered and spread as the foundation, but it's been too wet for anyone to bring their dump trucks in. At this point, that may not happen until late winter when the ground is frozen solid. So for now, we have to look at a huge hole in our yard! People ask if we're putting in another swimming pool!

Finally, James just started redoing the mudroom, which is actually that 3rd bedroom. Most likely that room won't be finished until next year.

Sorry for the long post, but that's what we've been up to. Of course we've completed a million little projects here and there throughout the year, but there are too many to list. Naturally, I've already made a list of projects to be completed in 2015! The #1 is finishing the patio as I don't want to look at a mud hole all year!