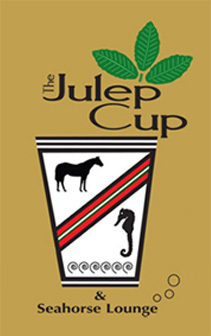 26 Aug

The Julep Cup

Okay, where did I leave off about my tour de Lexington? Oh that's right – The Julep Cup! I wanted to try this restaurant the last time James and I were in town, but we ran out of time. Because of that, it was first on the list, so we ventured into downtown on Monday after a fun-filled day of candy-eating at Rebecca Ruth's and horse-gazing at WinStar Farm.

Upon arrival, we were taken back into the main dining area which is beautifully furnished. Not surprisingly, it is all horsey: bits and bridles adorned the walls along with framed horse show ribbons and, of course, gorgeous artwork. After taking in the décor, I noticed something else – no one else was there. We were the only diners in a pretty large room! Our reservations were for 5:30 – maybe this place catered to the late dinner crowd?

Our waitress came over and I asked where everyone was. She replied that during the summer the restaurant is closed on Mondays, but they were honoring all reservations that were made prior to them deciding to close on Mondays. WHAT!? What kind of place does that? Back home we would have gotten a phone call saying sorry about your luck – the place is closed. But not in Kentucky. They had opened the restaurant JUST FOR US! Talk about Southern Hospitality!

Well if they were going to open just for us, we were going to make it worth their while. We ordered drinks and appetizers (cheeses, salads, fried green tomatoes, calamari, and deviled eggs) – all were delicious. Not surprisingly, our entrees did not disappoint either. I raved about my shrimp and grits while James and Kyle went to town on their Kentucky Hot Browns. What's a Kentucky Hot Brown, you ask? It's just a bunch of amazingness in a huge bowl. It's "oven roasted turkey and spiral ham on sourdough bread smothered with mornay sauce, cheddar cheese, tomato, and bacon." So basically it's an open-faced turkey sandwich loaded with cheese and bacon…and a lot of it. James and Kyle both cleaned their plates, but they definitely struggled there at the end. There was no way I'd have made a dent in it!

I believe we had a little dessert, but I was so full from everything else that I couldn't muster a single bite.

I was sad when it was time to leave – what a wonderful experience! The staff was very friendly and provided impeccable service, and the food, as you could probably tell, was divine. We will definitely be returning to The Julep Cup the next time we're in town!