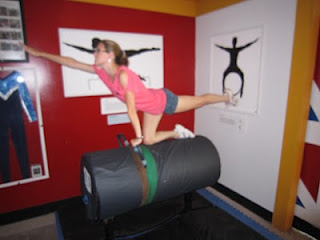 26 Feb

The Kentucky Horse Park

The slogan for The Kentucky Horse Park is, "The Place to Get Close to Horses." And this is true, but it really should read, "The Place to Get Close to Horses…if You're a Kid."

The horse park is great – it's like Disney World for the equine-obsessed like me. Absolutely everything around you is devoted to horses…and the employees of the park do allow you to get close to the horses and pet them…but every time I turned around, there was a kid in my way! I get that they're excited to see the horses too, but back up off…these horses are mine.

After each show, the horses from the performance would come to the fence for the fans to greet. Of course, kids (and Lauries), would swarm around them. I was getting ready to start throwing some elbows when James tapped me on the shoulder and told me to wait my turn…and let the kids go first.

What does that even mean? What about me? I'm excited too!

Me on the right…totally getting ready to throw a fit.
Again and again after each show, I felt obligated to act like the adult I supposedly am and wait on the sidelines until the crowd of ankle-bitters had their fill. While I was practically dying inside with impatience and frustration, James was laughing hysterically at my plight and taking pictures to capture the moment. What support!
"Laurie, let the kids go first!"
Finally got my hands on a miniature!
Overall, the horse park is pretty great and James and I really enjoyed our visit. We toured a museum, saw demonstrations, and got to meet some more racing legends, including Maryland born and bred, Cigar.
Cigar was not impressed with his fans…
And while I joke (kind of) about kids being in my way, I do appreciate that the park makes these beautiful equines accessible to horse lovers, young and old. After all, I was a horse crazy little girl not that long ago…and I just never grew up.
I could totally do vaulting on a horse!
Riding the mechanical horse!