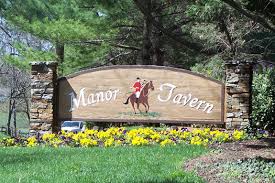 25 Mar

The Manor Tavern

Most people choose restaurants based on the food selections, the wine pairings, and the service. Me? I pick restaurants located in horse country with that distinct equestrian ambiance I love so dearly. Of course I enjoy eating delicious food, but what I love more is being seated amidst elegant hunt country décor. I know – priorities, right?

Lucky for me, there are quite a few restaurants in my area which meet my equestrian requirements and also serve wonderful meals. One of them is called The Manor Tavern which is located on Old York Road in my beloved Monkton.

"Manor Tavern is located on a land that was once the home of the Piscataway Indians. The tribe's trail, now Old York Road, was a major North-South artery between Washington, D.C. and Philadelphia. Passing through in 1687, Charles Calvert, the third Lord Baltimore, decreed 10,000 acres for himself. He made a gift of this land to his fourth wife in 1713, christening the estate 'My Lady's Manor.'

Since its beginnings as a stable in 1750, Manor Tavern has experienced many colorful transitions, from dirt-floor saloon to today's horse-country gem. The Manor Tavern soon emerged as a full-service restaurant with banquet facilities and is known as one of the favorite restaurants in Maryland."

This was the restaurant where I chose to host my 30th birthday party. You may remember my amazing fox cake from this post.

If you're in the area, definitely add this one to your list! (They have a great gluten free menu as well)!