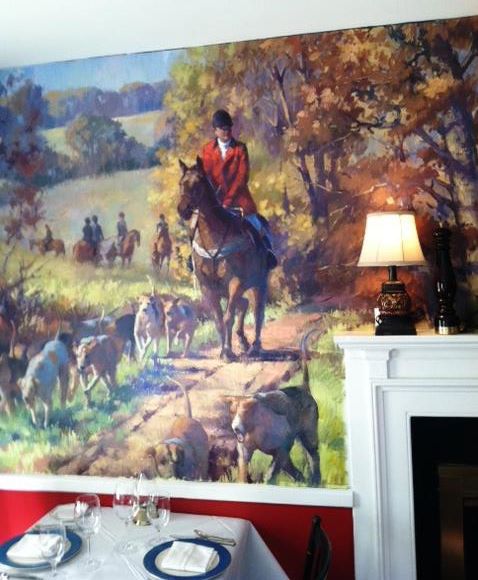 14 Apr

The Milton Inn

I'm continuing on with my tour of equestrian-themed restaurants. First, I reviewed Manor Tavern, and now it's on to my absolute favorite, The Milton Inn! What does The Milton Inn have that none of the others do? I'm not exactly sure, to tell you the truth, but for some reason this one just stands out and has a special place in my heart.

"The Milton Inn, a 274-year-old fieldstone building in Northern Baltimore County, is counted among Maryland's historic treasures. It is believed that construction of the Inn began in 1740, and it has grown and changed over the years to become one of the premier country dining spots in the United States. The house was originally used as a coachstop for Quakers who settled in this area. They came to worship at the New Gunpowder Meeting House which stood just a few miles from here.

During that era, the town of Sparks, Maryland was named Priceville after its founder, Quaker John Price. There are still members of the Price family residing nearby. The Inn served as a haven for travelers for about a hundred years. It was then purchased by John Emerson Lamb, who transformed it to a "classic" school for boys. Sons of prominent Maryland planters and merchants attended Milton Academy (named for Paradise Lost poet John Milton). The name has been associated with the Inn ever since.

Over the years, the Inn has engendered a legacy of romance, and numerous couples have become engaged in its candlelit dining rooms and open air garden terrace. Many return to celebrate their personal milestones. For private parties and meetings in the Baltimore, Maryland area, the Milton Inn will help you plan every detail in keeping with its traditions of fine dining and warm hospitality."

The Milton Inn is dining at its finest. The service is impeccable, and the food is delicious, (they also have a wonderful gluten free menu for us celiacs). And, of course, they have what's most important to me: fabulous equestrian décor. It creates the perfect ambiance in which to treat your favorite horse girl. (All pictures via their FB page).