29 Sep

The Red Prince Mare

I feel like I'm always apologizing for my absences on here – sorry friends! It's been a busy summer, and it has continued into the fall. All is well here, but with work, the farm, and my animals, I haven't had a lot of time to blog. Also – I've been riding more (woo!), so that's been taking time (but in a good way, of course)!

If you follow me on Instagram, you will remember that James and I gave our bedroom a mini-update a few months ago. We didn't do anything drastic (like we've done to the rest of the house), but we painted the walls/closet doors, got a new main door, bought new curtains, and just spruced the place up. I need to take some updated photos to share, but I wanted to show you my favorite piece that now hangs in the room.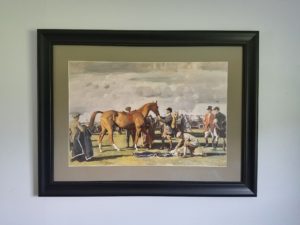 One of my favorite Sir Alfred J. Munnings paintings is "The Red Prince Mare." I love everything about it – the horse, the people in the background, the overall scene, the people's attire, etc. I found this print online at Horse & Hound, bought it, and then had it professionally framed at Michael's. I almost went with a white matting around the outside, but changed my mind at the last minute to this sage-y green.
Didn't it turn out perfectly!? It really anchors the room, and I used it as color inspiration as well, (walls are grey, curtains are navy blue, etc.).
Now that it's getting cooler and the days are getting shorter, there will be less outside chores taking up my time. I hope to really get back into the swing of things and blog regularly!!
Enjoy your weekend!