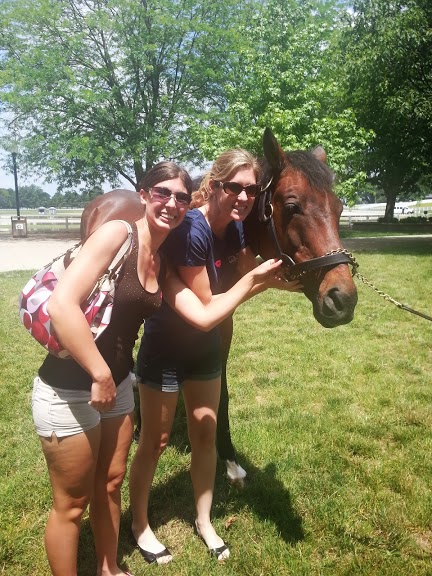 18 Sep

The Return of Mr. Friendly

Let's continue our Lexington, Kentucky journey, shall we? I believe I left off on Tuesday morning.

This was Kentucky Horse Park day! We arrived around 9:00 a.m. and purchased our tickets. If we rushed, we could catch the Hall of Champions presentation in the very back of the park, so we made our way there quickly. Once seated, a cat that must live at the park found my sister (whom we all call 'the cat whisperer') and stretched him or herself out right next to her – how appropriate. Very friendly greeters at the park! We watched as they brought through a variety of retired champion racers (both Thoroughbreds and Standardbreds) including Cigar and Funny Cide. Cigar was born at Country Life Farm, a Thoroughbred nursery less than ten minutes from my house. He's definitely a favorite to us Marylanders.

After the show, we meandered throughout the park, watching a few other shows such as the Parade of Breeds and the Mare and Foal show. They had the two most adorable miniature horses with their foals on display for us. I could just squeeze them!

The Bit and Bridle Café was open, so we dined there for lunch. The five year old in me enjoyed a grilled cheese sandwich and fries – yum! Our next stop was the International Museum of the Horse. I could easily spend hours upon hours reading every bit of trivia housed in there. But before we entered the building, we were met by champion racer, Da Hoss, best known for winning the Grade I Breeders Cup Mile, now known as the Breeders Cup Turf Mile, under jockey Gary Stevens. Da Hoss' groom let us pet him, and pet and hug him we did! He was very gracious and polite and allowed us to fawn all over him.

In the museum, we spent at least an hour going through the exhibits; my favorite was Calumet Farm's Triple Crown races trophy display. It was a fabulous sight!

We left the Horse Park around 2:00 p.m. because we had a tour scheduled at Ashford Stud later that afternoon. Ashford is probably the most beautiful of all the farms in Lexington. The long, tree-lined drive, the stone buildings, the greenery everywhere; it is simply breathtaking. We met Dunkirk, Giant's Causeway, Hansen, Lookin at Lucky, and Thunder Gulch, among others.

And I know what you're going to ask next…did we see Mr. Friendly? And the answer is, yes, we did! If you remember this post about our previous trip to Ashford, you'll recall how our tour guide wasn't the most welcoming. Well, I'm pleased to say that Mr. Friendly was our guide again, and he had a much better sense of humor this time! Success!

Dinner that evening took place at The Boone Tavern in the quaint town of Berea. James and I had loved the restaurant so much when we had visited before that we had to take our family there. As usual, the spoonbread appetizer did not disappoint, and everyone was pleased with their meals and the ambience of the fancy tavern.