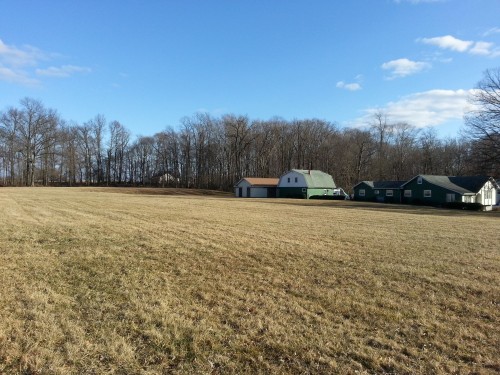 16 Apr

The Sassy Grey BOUGHT THE FARM!

Wow – it's been a while since I've blogged; I'd better have a good excuse for all the neglect, right? Well, I do!

It's official – on March 7th, we settled on our very own farm!! Actually, it's more of a "farmette" as it's just shy of 5 acres, but who cares? It's ours and it's perfect! The house is about 90 years old, but has been nicely maintained; it just needs your basic updating (like kitchen and bathrooms). We have a 2 car garage, an in-ground pool, and, most importantly, a 3 stall barn with loft and tack room!! The previous owners hadn't had horses on the property for about 15 years, so there is lots of cleaning of cobwebs to be done, but the structure is sound and the stalls are nice and roomy. Misty will love it!

The property itself is very flat – perfect for training. And while we don't have the fencing complete yet, we've started! My goal is to have Misty and her siblings (her pony and my mom's/sister's horses) here by the beginning of June.

We have a few neighbors, but everyone has plenty of space and a few others have horses as well. We are far out enough that we really feel like we're in the country, but can get to anywhere we need within 10 minutes or less. I'm so in love!

I'll post more as we get things accomplished around here – and especially once the diva makes her grand entrance! Haha! In the meantime, sorry in advance for the lack of postings moving forward. I've got a farm to take care of y'all!!