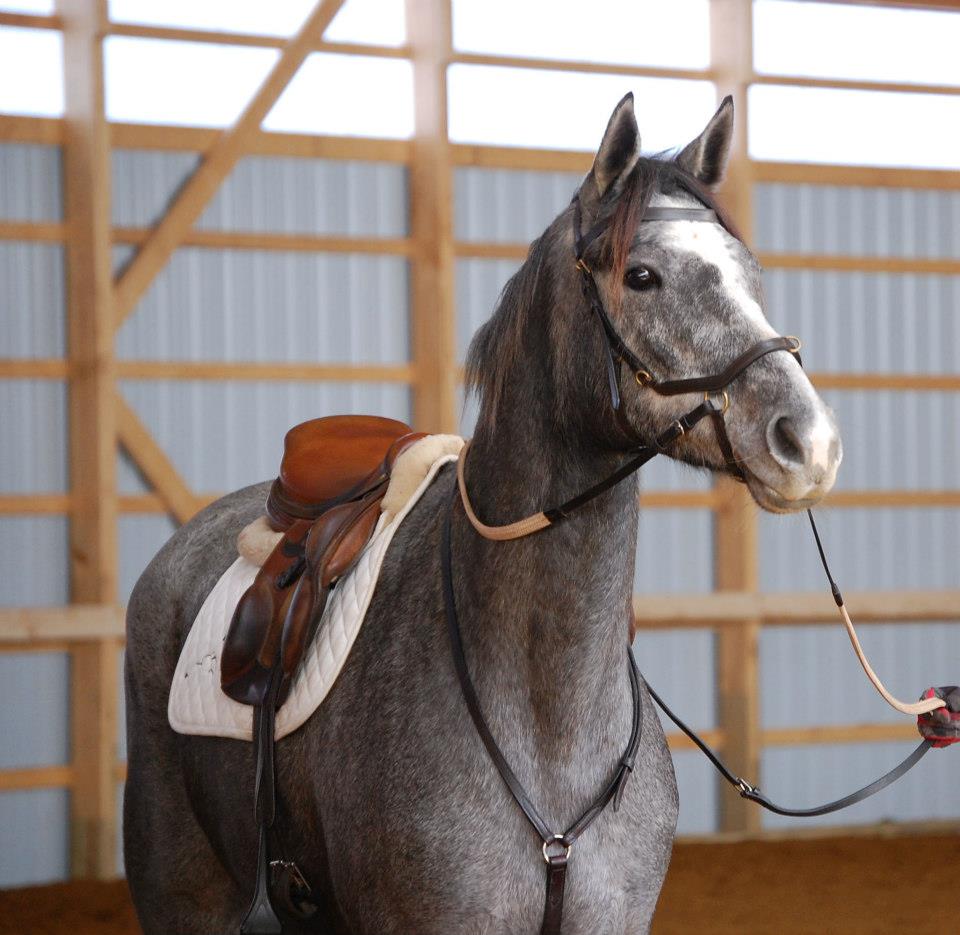 07 Jan

They're Baaaaack! RRTP!

The Retired Racehorse Training Project is back with another OTTB challenge. Last year we saw the Trainer Challenge, (I wrote about it here), in which three professionals worked with recently retired racehorses for approximately two months. Fans were able to vote for their favorite pair, and Eric Dierks, riding grey mare (woo!) Brazilian Wedding, was the eventual winner.

This year's 100 Day Thoroughbred Challenge is pretty different, but still just as exciting. Four OTTBs have been entered in representation of four well-known racing and breeding stables. The horses have all been sent to Steuart Pittman's Dodon Farm in Davidson, Maryland where he and his assistant trainer, Michelle Warro, will have 100 days to "demonstrate to the versatility, trainability, and quality of the Thoroughbreds being produced by America's horse racing industry."

We will be able to get a good look at these new stars at both the Maryland and Pennsylvania Horse World Expos. Below are the horses and my thoughts on each!

Suave Jazz – Walnut Green Farm
While Suave Jazz is my 2nd favorite of these four horses, he's the one I'd buy. I'm not a super confident rider, so I like a horse that takes everything in stride and isn't easily spooked. No matter where he is (indoor, outdoor, trails), Jazz just gets to work. He appears to love his job and is all heart. Steuart even took him hunting right before Christmas! If Misty were going to get a brother, it would be Jazz; he's happy and uncomplicated…and we all need uncomplicated geldings to balance out sassy grey mares!

Gunport – Sagamore Farm
I have been to Sagamore Farm, (you can read about my tour here), and it's beautiful. Owner Kevin Plank left no stone unturned when renovating the old Alfred Vanderbilt II estate. Gunport was definitely in great hands during her tenure there, but since racing wasn't for her, she's ready for a new career. Naturally, she is my favorite. There's just something about those grey fillies! Last year Brazil had my heart; this year it's Gunport, (and of course I adore my own grey wench, Misty). Gunport's a brave little girl because she has the talented Michelle Warro on her back. She's the one to watch!

Declan's Moon – Country Life Farm
I'm also rooting for Declan because I'm a huge fan of Country Life Farm. I grew up about 10 minutes away from this farm and always enjoyed watching the mommas and babies playing in their lush fields. Declan, Eclipse Award Winner, is a big beautiful mover, and has quickly become Steuart's favorite. While I enjoy looking at Declan, he appears to be a handful, and a horse that strong-willed would scare me!

Alluring Punch – Northview Stallion Station
Punchy is a Two Punch baby – and he's gorgeous! I think everyone has a soft spot for handsome chestnuts with chrome…makes me think of the amazing Shackleford! But Punchy was no Shack on the track and has been retired as a three year old. He is coming along nicely and seems willing, but is a greenie and has had some steering and connection issues. But I'll be cheering him on as well because my friend Susan has fallen in love with him, and I'm encouraging her to buy him!

You can follow these four horses' progress at www.retiredracehorsetraining.org or on their Facebook page. I'm so glad the RTTP came back with another challenge – it gives me something to look forward to during the long, cold Maryland winter!