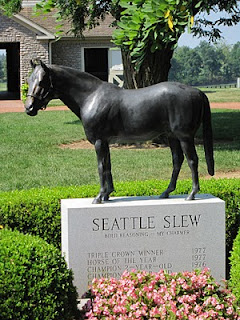 19 Feb

Three Chimneys Farm – Part I
On the top of my list of things to do while in Lexington was to stalk famous retired racehorses. If any of you out there love celebrities, visiting Three Chimneys Farm for me would be like creeping around Brad Pitt's house for you.
In order to tour the farm, we had to make a reservation a few weeks ahead of time. James and I arrived right on time and our tour group consisted of about 20 people. Three Chimneys is a stallion farm. Basically what this means is that owners of successful (male) racehorses pay Three Chimneys for not only room and board, essentially, but to coordinate breeding schedules. If a racehorse had a successful career on the track, his breeding career is usually much more lucrative.
Three Chimneys, therefore, houses the retired horses and arranges for mares (female horses) to come to the farm and have a "date" with their chosen stallion (or stud). The interesting thing is that these booty calls are quite pricey. One of the stallions has a fee of $150,000 per cover (sexy time)…and he mates approximately 100 – 150 times per year. You do the math.
Three Chimneys was the home of 1977 Triple Crown winner, Seattle Slew, and is the current home of Smarty Jones, Big Brown, and 2001 Horse of the Year, Point Given, among others.