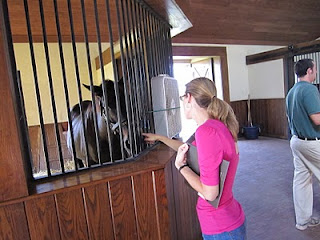 25 Feb

Three Chimneys Farm – Part II

We had the nicest tour guide at Three Chimneys – that is until he yelled at me.

I can't remember his name, but he was super friendly and, of course, very knowledgeable about the racing industry and all of his Thoroughbred charges. If only I could wake up everyday in paradise and work with these amazing animals!

The second barn we toured housed some of the older Thoroughbreds. Though they were all up in age, they still looked pretty good. As soon as we walked in, I recognized Dynaformer. Although he was a better-than-average racehorse in his day, he is now best known as Barbaro's dad. Barbaro was the 2006 Kentucky Derby winner who subsequently broke down in the Preakness only to be euthanized about 9 months later.

A huge fan of Barbaro, I was SO excited to meet his dad! I walked over to get a better look and he stuck his nose out towards more, anxious for some attention (or in hopes of treats). Like a reflex, I reached out to pet his nose…only to be yelled at seconds later by the tour guide. "Please do not pet the horses!"

Telling me not to pet a horse is like telling me not to breathe. And maybe he yelled at me, but how many people can say that they got their hands on one of the most famous stallions out there!? Totally worth it.

Below: me about to be caught in the act…notice the tour guide on the right (in green).
Regardless of my slap on the wrist, Three Chimneys was the highlight of my trip; if you're ever inLexington, touring this farm is a must! (Just don't pet the horses…or at least get caught while doing so)!
Below: here we are in the Breeding Shed…also known as the place 'where the magic happens.' Oh, you know it!