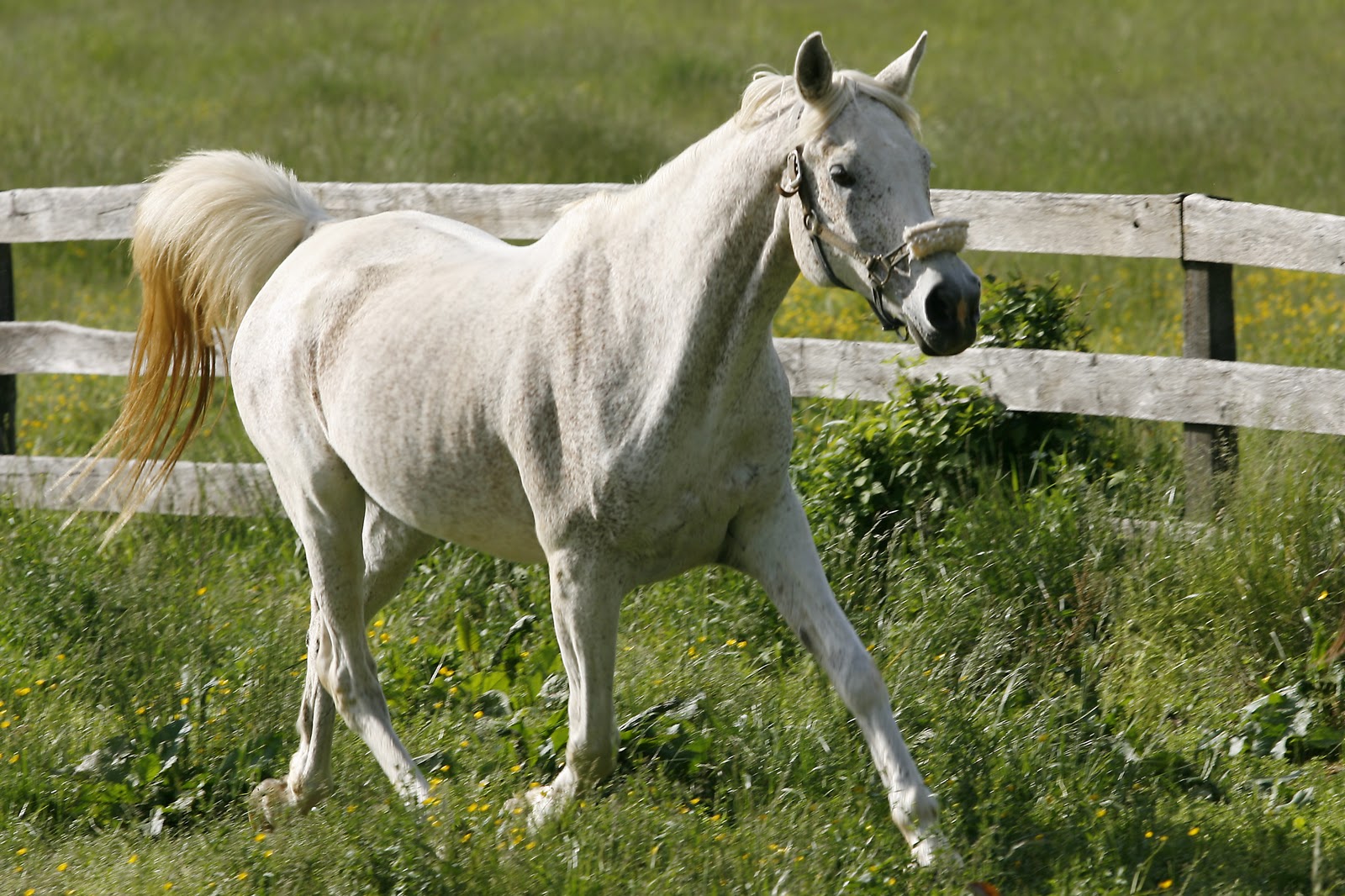 05 Dec

Traveller – Another Sassy Grey

I'm late with this post too – this one is about my mom's horse, Traveller, another very sassy grey. I can remember life before Trav, but just barely.
My mom rides Traveller Western, but he is trained English as well.
Traveller is an Arabian and was born 23 years ago at Imperial Egyptian Stud, a beautiful farm in Parkton, Maryland. I'm not sure of all the specifics since I was so young at the time, but apparently Traveller was born without Arabian show-quality features, and therefore his owners didn't want him. My mom had lost her first horse, Pepper, about nine months prior and was ready to bring another horse into the family…and this one was free!
I remember the day Traveller came home – he was only a yearling and was a funny roan color. Basically, he looked pink with a black mane and tail. We were told that he would "grey out," which, of course, excited me, and my father, being a Civil War buff, suggested the name of Traveller (the name of General Robert E. Lee's favorite horse who was also a grey).
For my brother and I (Andy was 8 at the time, I was 6), Trav was like a big, fun dog. We'd play with him in the field (Andy would flat out try to wrestle him), we'd chase him with our bikes (and then he'd turn around and chase us back!), and, of course, we helped my mother take care of him. Sometimes I would drag a chair out to the barn, and sit by Traveller's stall and read. Trav would stick his head out the window and just watch me – he has always been super inquisitive.
I remember sitting outside the barn, hanging out with Trav while my parents were inside fighting (which was a regular occurrence). I remember saying to Trav something like, "if mom and dad get divorced, don't worry. I'll make sure we keep you. If I have to get a job and pay for you, I will." I think I was about 7 at the time…always willing to work for my horses.
Sure enough, when I was 19, my parents divorced, but of course we kept our Traveller. We moved him (and Komie) to the farm where we board now, but now our herd has grown from two to five!
Me and my "Crazy Man!"
One note about him though – Trav likes to bite. He's the one horse we have that we can't turn our backs on. But even though he can be a brat, you will not find a better trail horse. Traveller has always been very reliable, a good, sturdy trail horse who loves to get out and see new things. I showed him a handful of times as well; we always did great as he was very flashy!
He turned 23 in July and is still going strong…just watch those teeth!