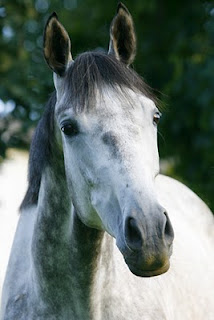 22 Feb

Who is the Sassy Grey? Meet Misty!
Since my horse inspired me to start this blog, I figured it was time to introduce my readers to the diva that is Misty Mystique.
In 2008, I adopted Misty off the track as a four year old. It was truly love at first sight for Misty was long, lean, leggy, and my favorite color, dappled grey. She was personable and friendly and full of mischief. I knew right then and there that I had to have this horse.
After I brought her home, I realized that I had been a fool and had followed my heart instead of my head. Though I've ridden for my entire life, I had no experience with Thoroughbreds, let alone an ex-racer. How on earth was I going to retrain her to be a regular riding horse?
Thankfully there are a million resources out there for retraining your OTTB (off-the-track-Thoroughbred), so I hit the books, studied hard, and put those practices to the test with Misty. I was also lucky enough to have a few experienced friends who gladly lent a helping hand.
I was also fortunate enough to adopt the absolute laziest racehorse ever to walk the earth. The reason Misty was given to me (for free) was because she was a terrible racehorse, never finishing better than fifth in 15 lifetime races. That being said, Misty does not like to run (obviously)…she does not like to go any faster than a walk…and only then if it's towards food of some sort.
But having a lazy Thoroughbred has worked out in my favor – never has she tried to take off with me and race around the fields…and she can stop on a dime. Her favorite part of the ride is when I let her stand there and nose James' pockets for treats. But I'm not complaining for her retraining has been a breeze and we've had a ton of fun learning together.
Stay tuned for more adventures of the one and only, Misty Mystique…